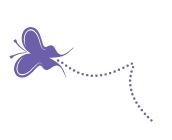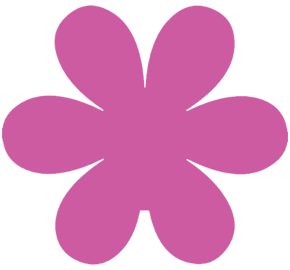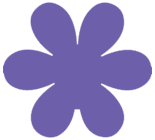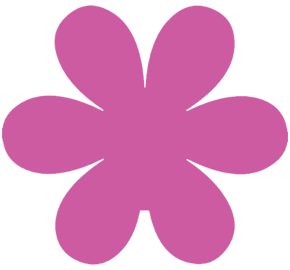 Team Amelio
"The best way to find yourself is to lose yourself in the service of others"
– Mahatma Gandhi
At Amelio, our people are our biggest strength. We take great care to hire bright minds who show a clear passion for childcare and early education. We invest in their success and help them realize their potential. Here are a few key members of the Amelio team.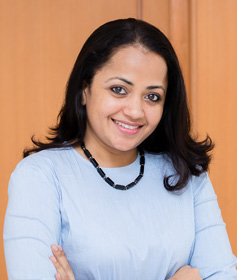 Sridevi Raghavan
CEO
Sridevi Raghavan graduated with an MBA from Harvard Business School and is co-founder and CEO of Amelio. Sridevi has a diverse work experience which enriched her exposure and thinking along businesses in India. Having started her career in advertising with Ogilvy and Mather, Sridevi shifted trajectory, and worked in a few non-profits such as CRY and CARE in India.
In December 2012, Sridevi won the TiECon Chennai Award for entrepreneurship in recognition of the contribution of Amelio to the working women of Chennai. Sridevi is also the recipient of the Woman of the Year award for 2013 accorded by FICCI FLO.
Sridevi regularly speaks at Industry conferences and at universities on the topics of women and work life balance. A trained Bharatanatyam dancer, Sridevi has performed in various cities in India and abroad. Sridevi also greatly enjoys travelling and reading.
×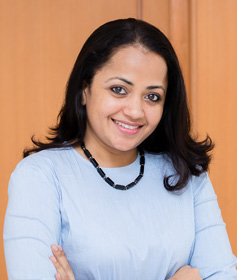 Sridevi RaghavanCEO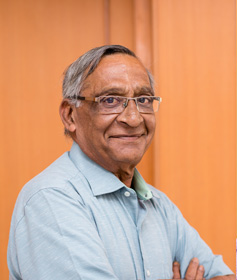 T.R. Prakash Babu
Head - Finance & Accounts
Prakash Babu has 45 Years of experience in various industries in various capacities in Finance, and has lead the finance division of an International Corporation for over 10 years.  He has 10 years of experience as financial consultant under a CPA for its clients in Malawi, Central Africa.
Prakash Babu is Head – Finance at Amelio and steers finance and accounts division and uses his rich experience to chart the financial course of the Company.
Prakash Babu has a great love for books and is a compulsive reader.
×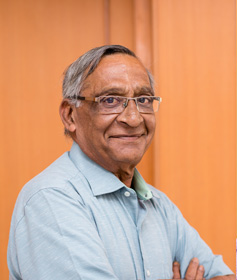 T.R. Prakash BabuHead - Finance & Accounts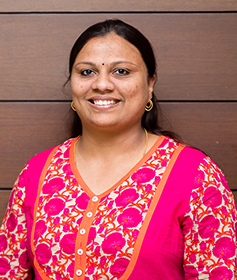 Reena Winston
Zonal Manager
Reena has 12 + years experience in customer service operations.  She has worked in a BPO for international credit card banking customer support for 8 years.
At Amelio, Reena manages operations for four centres with respect to safety, hygiene and reporting. Reena enjoys gardening and art.
×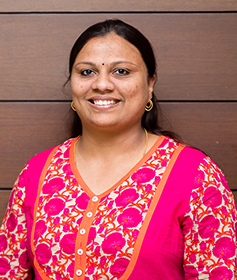 Reena WinstonZonal Manager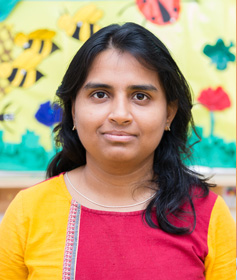 Divya Palaniappan
Manager - Curriculum
A graduate in Computer science, Divya found debugging esoteric computer codes mundane and desired meaningful human interactions. She quit her plush networking career at Cisco to pursue Psychology where she  covered the joy of solving conflicts of the mind.  While pursuing her M.phil in Psychology her experience training under Dr. KeerthiPai, where she saw young children brought for screening, propelled her to specialize in Early Childhood Education. Divya believes in "catching them young" by providing the right stimuli for their age to nurture a harmonious society.
At Amelio, Divya brain storms ideas, gets her hands dirty to design age-appropriate activities for toddlers. Divya enjoys traveling, art & living eco-friendly!
×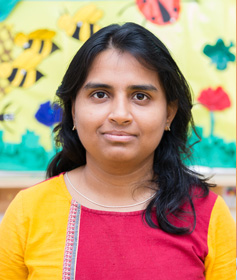 Divya PalaniappanManager - Curriculum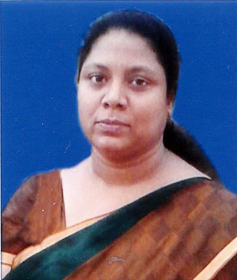 Joice Metilda
Area Manager
Joice has 17 years of experience in sales, Business Development and Operations. At Amelio, Joice manages operations for two centres with respect to safety, hygiene and reporting.
Joice enjoys reading books, singing and listening to music.
×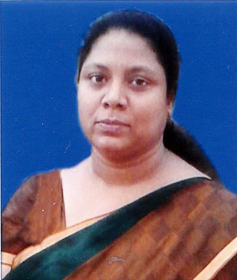 Joice MetildaArea Manager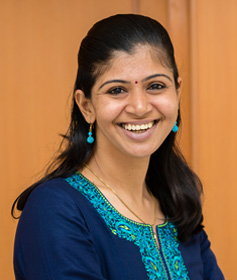 Deepa GV
Manager – Human Resources
Deepa has 6 years of experience working in the field of human resource management at several Indian and international corporations. At Amelio, Deepa oversees recruitment, manpower planning and budgeting, induction, orientation and benefit administration for the employees.
Deepa enjoys listening to music and reading.
×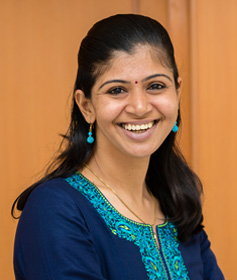 Deepa GVManager – Human Resources
Vimala V M
Manager - Quality Assurance & Training
Vimala has 11+ years of rich experience working for various service industries. Her expertise lies in Quality & Analytics and Process documentation, and has been part of Green Belt Projects for service industries. She has proven records of formulating and implementing Policy at a Corporate and Strategic level within critical deadlines. She is also a certified Professional Trainer.
At Amelio, Vimala manages Quality Assurance by facilitating Process Audits across centres using Continuous Improvement methodology. She engages with parents on Grievance handling and trains all new joiners as part of On-boarding.
Vimala enjoys Gardening, Listening to Music and Reading about Flora and Fauna.
×
Vimala V MManager - Quality Assurance & Training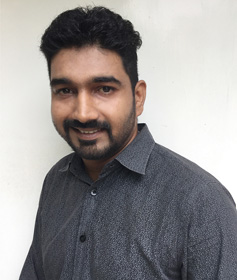 Neeraj Kashyap
Business Development Manager
Mr. Neeraj holds a Masters in Business Administration from Amity College, PGDM in International
Business Management and a Bachelor's degree in Commerce. He has worked in the past with
Stansfield College at Singapore as a Marketing Manager for close to eight years. His hobbies are
watching movies and reading novels.
×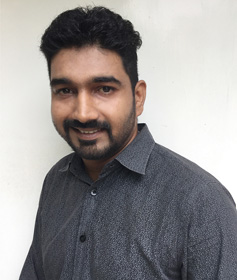 Neeraj KashyapBusiness Development Manager